Galvanised Steel Wire Rope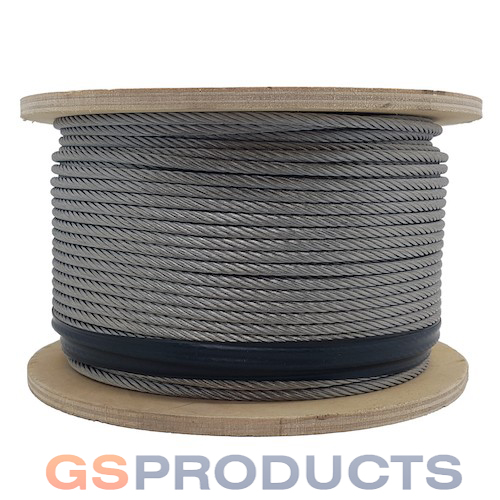 Galvanised Steel Wire Rope, SWR
Our Galvanised Steel Wire rope is available in a range of strands, sold per meter and on bulk buy value reels. Marine grade, it is very tough, durable and corrosion resistant, ideal for many different applications including maritime use, industrial and architectural applications such as rigging, hoists, winches and more. We have various strands and strengths of galvanised rope available:
1x19 Galvanised Steel Wire Rope is very stiff as it is made up of fewer wires, this is typically used for Balustrading and Architectural Rigging.
7x7 Galvanised Steel Wire Rope is a general use steel wire rope with medium flexibility.
7x19 Galvanised Steel wire rope is extremely flexible and suitable for load running applications such as Hoists and Winches.
Buy our wire rope per meter to your exact desired length or on pre cut 100 and 250 meter value reels for maximum savings.
We also supply a wide range of wire rope tools, clamp grips, ferrules and terminal ends. Here at GS Products, we are leading experts on Steel Wire Rope with everything you need for your project. Get in touch today if you have any questions, queries, or would like guidance on buying SWR.

Q: I have never ordered Steel Wire Rope before...... what does 1x19, 7x7 7x19, 6x19fc mean?
A: 1x19, 7x7, 7x19 etc is the strand, this simply means how the steel cable has been wound. This gives the steel wire rope different and unique characteristics. The more strands in the wire rope overall diameter will make it more flexible, the lesser amount of strands will make it more stiffer
1x19 is made of 19 individual strands so this makes it a stiff wire rope - ideal for straight runs such as balustrades
7x7 is made up of 7 main strands and each of these 7 strands is made up of 7 smaller strands (49 small strands in total), this makes 7x7 a mid flex steel wire rope, it is flexible in 1mm, 1,5mm, 2mm, 2.5mm and 3mm diameter, 4mm diameter upwards in a 7x7 strand does get a little stiffer. This is a general use wire rope. 7x7 can be turned back on itself easily to make loops using our steel wire rope grips in diameters 1-4mm
7x19 is made up of 7 main strands but each of the 7 main strands is made up of 19 smaller strands (133 small strands in total), this makes the wire rope very flexible in all diameters. It is ideal for winches, pulleys and any application where you want general flexibilty in your steel wire rope. Most steel wire rope strands we sell over 5mm diameter is usually a 7x19 as 7x7 and 1x19 stranded steel wire ropes are very difficult to work as the diameter increases. 7x19 steel wire rope can easily be turned back on itself in all diameters
---
Q: Is the diameter the overall diameter regardless of 7x7, 7x19, 1x19 or any other strand?
A: Yes, regardless of the strand you decide to go with the diameter is the overall diameter
eg. 2mm 7x7 stainless steel wire rope has a 2mm overall diameter with a 7x7 strand
---
Q: How does the price per meter listing work?
A: If you out '25' into the quantity box we will send you a 25 meter continuous linear length
---