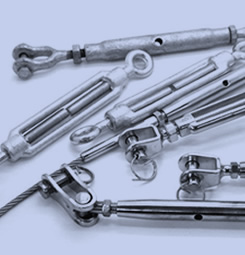 RIGGING SCREWS
Known as Turn Buckles, Rigging Screws, Tensioners, Closed Body ...
Marine Grade Stainless Steel Chain, Fittings and Rope
GS Products are a leading supplier of marine grade fittings. Our selection of steel wire rope includes stainless steel and galvanised rope, fittings and tools, is available in different strands, sold per meter and on bulk buy value reels. It's ideal for maritime use but suitable for a wide range of industries including industrial and construction. We stock an extensive range of stainless steel chain for general or commercial use, perfect for boat mooring and available in various diameters and sold per meter. A whole array of marine fittings and supplies are available, from many different types of boat anchors to eye bolts for fixing and securing. We stock a large range of hooks, shackles and rings, all marine grade and manufactured to our high standards of quality.
We have an extensive selection so you should be able to find exactly what you want and in the quantity you need. Simply order what you require online and await delivery, usually within two business days. At GS Products we are experts in our field and we are happy to guide you on the best products and components for your needs. If you need any information about the items you see on the site, or about any parts that you are struggling to find, feel free to contact us today
Need some friendly help?
Call 01384 883 330 or click to email us